WHY NOT MAKE YOUR BACKYARD THE GO-TO SPOT FOR DINING AND DRINKING?
Steaks, BBQ, refreshments, salad bars, and more! Your new outdoor kitchen can be expertly designed to fulfill your every wish.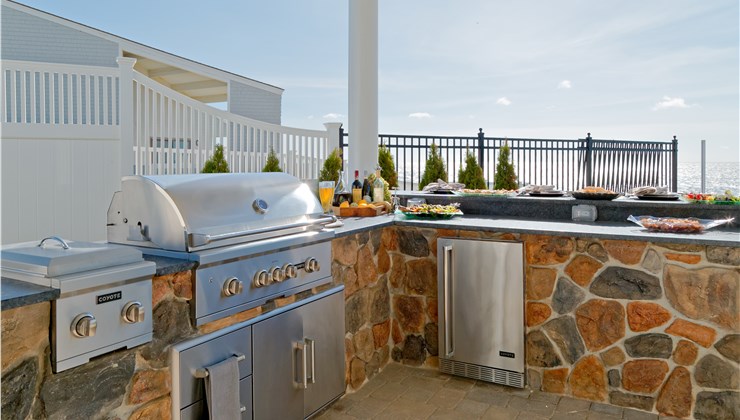 Outdoor Kitchen Design
For many homeowners across the country, luxury outdoor living is defined by one feature: a fully stocked, elegantly designed, and weather-protected outdoor kitchen. If you're looking to up the entertainment factor and stylish appeal of your backyard space, work with ClifRock's Authorized Installers to create a unique outdoor kitchen design that will truly wow!
Five-Star Food and Fun in Your Own Custom Outdoor Kitchen
At ClifRock, no outdoor kitchen design is beyond the capabilities of our exceptional team—so the only limit is your imagination! We can build a cozy fire pit for roasting smores, a built-in grill for mouth-watering burgers, or a well-stocked bar area with back-lit shelves, wine coolers, and plenty of fridge/freezer space. Whether for small family dinners or regular gatherings of your entire social group, your custom outdoor kitchen can be crafted with all the trendy, modern, and deluxe touches you want.
Collaborate with our outdoor kitchen design crew to create the space you've always wanted, utilizing your choice of features and amenities:
Built-in Grills
BBQ Islands
Kitchen Countertops
Refrigerators and Freezers
Shelving, Drawers, and Storage
Refreshment Centers
Bar Seating
… and many more!
A Lifetime of Memories with Durable, Low-Maintenance Materials
Regardless of the type of custom outdoor kitchen you desire—from casual backyard bistro to ultra-hip outdoor bar—ClifRock will ensure long-lasting durability and value. We've specially engineered our own masonry alternative that mimics the beauty of natural stone without any of its drawbacks. This Panel Masonry™ technology provides:
Proven strength

 

against chipping, impact damage, rot, abrasions, and extreme temperatures.
Natural elegance

 

of real stone, including faithful profiles and color palettes based on hand-picked stone impressions.
Lightweight constructions

 

that can be completed almost anywhere without damaging surfaces or requiring structural reinforcement.
Quick installations, often done in a matter of 1-2 days and with minimal disruption to your backyard.
Ready for a Stunning Outdoor Kitchen Design? Consult with a ClifRock Authorized Installer Today
From L-shaped and U-shaped kitchens to freestanding islands, ClifRock builds deluxe outdoor kitchens to match any-sized space and a variety of contemporary aesthetics. Choose from dry stack, random rock, cliff rock, and many other stone profiles to create an exclusive, one-of-a-kind outdoor kitchen design you'll love!
Call us today to speak with an Authorized Installer and explore the many benefits of Panel Masonry™ engineered stone. To sign up for an expert consultation and free quote, fill out our online form now.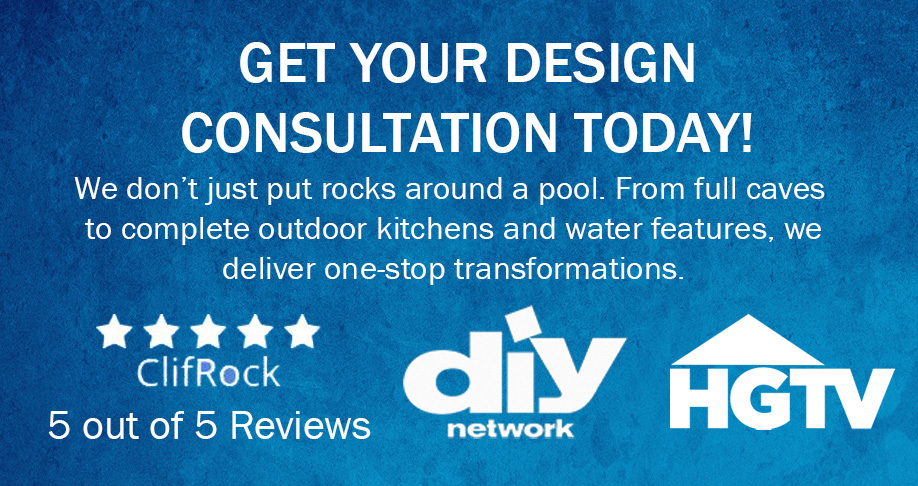 Create Your Unique Water Feature Design and Receive a Free Estimate Now
If you're ready to modernize and enhance your backyard space, start by reaching out to a ClifRock Authorized Installer—the largest water feature builder network in North America! They'll turn your backyard into the talk of the town with elegant, custom-built water features of any size, shape, and style.
Simply give us a call: 905-639-9845; or submit an inquiry to our link.
INNOVATIVE PRODUCTS FOR BACKYARDS AND BEYOND
At ClifRock, we design and create industry-leading products to complete your backyard transformation.

PROPRIETARY PANEL MASONRY TECHNOLOGY
The Panel Masonry™ technology we use combines the appearance of stone with simplified installation and lifetime durability.

DEDICATED AND EXPERIENCED INSTALLERS
Our network of Authorized Installers understand how to transform your ideas into an outdoor space you love coming home to.

RESORT STYLE OUTDOOR LIVING SPACES
Using advanced technology and our expansive experience, we provide full guidance and support to develop unique outdoor designs.