WANT PEACEFUL LUXURY? ADD A CUSTOM-BUILT, HIGH-END WATER WALL!
Boost your home's luxurious exterior design while basking in the serene sounds of gently running water.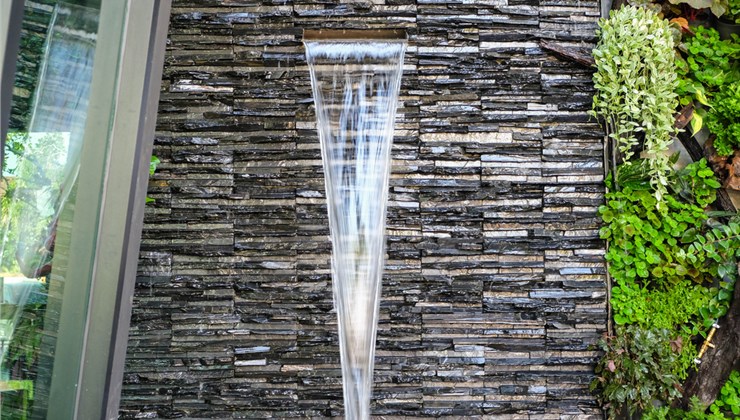 Water Wall
There's something about a gentle stream of water that relaxes the mind and body and transforms an otherwise "normal" space into a peaceful, spa-like environment. Give yourself and your family the gift of tranquility with a beautiful water wall designed by ClifRock! Our custom water walls reflect the high-end luxury of natural stone and can be built in absolutely any size, shape, and design you desire.
Endless Uses for a Custom Water Wall
At ClifRock, we specialize in custom-built, artistically designed water features that truly elevate backyard living spaces. Depending on your individual preferences, our premium water walls can be tailored to fulfill any number of practical and aesthetic purposes:
Privacy: A large, thoughtfully placed water wall can create a cozy, private oasis in an otherwise open backyard.
Beauty: Even a very simple water wall design can transform your backyard into a modern space worthy of your favorite home magazine.
Peace: Bask in the sounds of lightly trickling water while you enjoy your morning coffee or evening glass of wine.
Entertainment: Add a water wall to your pool for hours of fun! Install it next to a log slide, diving boulder, or hidden cave for even more excitement.
Top-Tier Water Walls, from Design to Performance
No matter the size, placement, or function of your water wall design, you can expect some of the industry's highest-performing products from ClifRock. In fact, we've engineered our own stone-inspired material that is certain to wow! Crafted from a polymeric fiber-reinforced concrete, our Panel Masonry™ technology is:
Built on detailed impressions of real stone, crafted by a 20-year masonry expert.
Installable in a matter of 1-3 days.
Six times stronger than concrete at just one-tenth the weight of natural stone.
Light enough to build or retrofit almost anywhere.
Built to withstand freezing temperatures, extreme heat, impacts, rot, and abrasion.
Create Your Unique Water Feature Design and Receive a Free Estimate Now
If you're ready to modernize and enhance your backyard space, start by reaching out to a ClifRock Authorized Installer—the largest water feature builder network in North America! They'll turn your backyard into the talk of the town with elegant, custom-built water features of any size, shape, and style.
Simply give us a call: 905-639-9845; or submit an inquiry to our link.